The Polar Postal History Society of Great Britain Library includes all issues of the society magazine, Polar Post, from its launch in 1953 to the current issue! Other sections of the library contain Polar Books, Polar Philatelic Articles, Polar Research Papers and Polar Newspaper Articles.
Members of the Society can log-in using the e-mail address provided to the Membership Secretary, and the password advised at registration, by clicking on Member Log-in link on the left menu. Access the contents of the Polar Library by clicking on the + signs!
Non-members can view an example of our journal, Polar Post, here
If you wish to join the society and access the Library you can register at our online registration page on the main website of the Polar Postal History Society www.polarpostalhistory.org.uk
Latest Additions to the Library
New Additions to the Polar Library 20th August 2023
The September 2023 issue of Polar Post is now online. Click on the link to the Current Issue or to the September 2023 folder. Good reading!
New Additions to the Polar Library 8th February 2023
We have pleasure in announcing the addition of two updated polar philatelic publications in the Polar Library. John Youle has updated his
and
Members can read these fine publications by clicking on the links above and logging in to the Polar Library.
Good reading!
New Additions to the Polar Library 7th December 2022
Polar Postal History Society members will know that our Editor adds additional material to the published version of Polar Post when the issues are included in the Polar Library. To make it easier to read the additional material we have created a separate folder where all supplements are separately located.
You can find this on the menu on the left or by clicking on the link or image below below.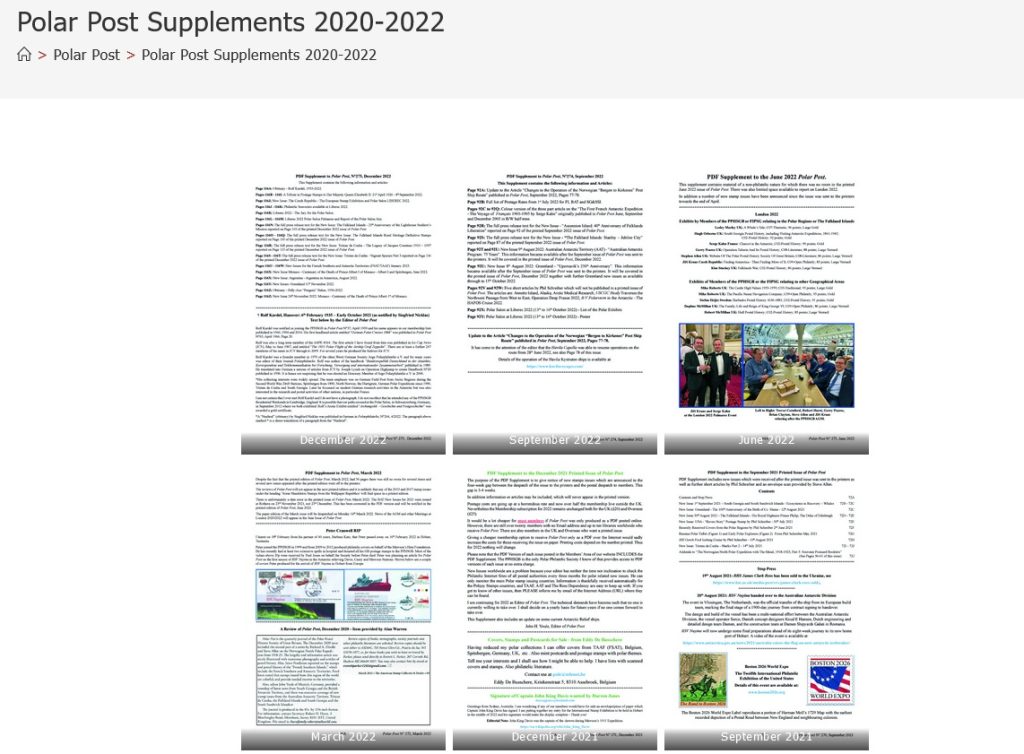 The December issue of Polar Post has been added to the Polar Library.
Polar Post December 2022
Her Majesty Queen Elizabeth II 21st April 1926 – 8th September 2022 93 (Front Page) & 98
Committee; Deadline for next Polar Post; Dates for your Diary; Note on Copyright 94
Contents; Editorial 95
Update to the Article "Changes to the Operation of the Norwegian "Bergen to Kirkenes" Post Ship Route" 95
Chairman's Message; Postcard MW GF-2; Postcard of an unknown bearded man 96
Phoenix Auctions Sale "N°94 – Part 1", Thursday 18th August 2022; Membership News 97
The Endurance 22 Expedition Philately – an update 98
North Cape (Nordkapp) Tourist Postcard 1891; The Editor's Visit by Car to North Cape in the Fog 1986 99
Survey Expeditions to Heard and McDonald Islands 1971 and 1980 100-103
The beginning of Sea-borne Antarctic Tourism 1958-1970 103-109
New Issue: The Falkland Islands – 25th Anniversary of the Lighthouse Seafarer's Mission 110
New Issue: The Falkland Islands – Rural Heritage Definitive Stamps 110
New Issue: South Georgia & SSI – South Sandwich Islands, Central Islands 111
New Issue: Ross Dependency – Science on Ice 112
New Issue: TAAF/FSAT – 300th Anniversary of the Discovery of the Tropical Coral Island Tromelin 113
New Issue: TAAF/FSAT – Centenary of the Death of Prince Albert 1st of Monaco 113
125th Anniversary of the Departure of the Belgian Antarctic Expedition – privately produced cover 113
New Issue: Australian Antarctic Territory (AAT) – Australian Antarctic Program: 75 Years 114-115
New Issues: Greenland – 8th and 31st August 2022 115
New Issue: Tristan da Cunha – The Legacy of Jacques Cousteau 1910 – 1997 115
New Issue: Tristan da Cunha – Vagrant Species Part 3 116
New Issue: Spain – Antarctic Campaigns Souvenir Sheet 116
PDF Supplement to Polar Post, N°275, December 2022
This Supplement contains the following information and Articles:
Page 116A: Obituary – Rolf Kardel, 1935-2022.
Pages 116B – 116I: A Tribute in Postage Stamps to Her Majesty Queen Elizabeth II: 21st April 1926 – 8th September 2022.
Page 116J; New Issue: The Czech Republic – The European Stamp Exhibition and Polar Salon LIBEREC 2022.
Pages 116J – 116K: Philatelic Souvenirs available at Liberec 2022.
Page 116K: Liberec 2022 – The Jury for the Polar Salon.
Pages 116L – 116M: Liberec 2022 Polar Salon Palmares and Report of the Polar Salon Jury.
Pages 116N: The full press release text for the New Issue: The Falkland Islands – 25th Anniversary of the Lighthouse Seafarer's
Mission reported on Page 110 of the printed December 2022 issue of Polar Post.
Pages 116O – 116Q: The full press release text for the New Issue: The Falkland Islands Rural Heritage Definitive Stamps
reported on Page 110 of the printed December 2022 issue of Polar Post.
Page 116R: The full press release text for the New Issue: Tristan da Cunha – The Legacy of Jacques Cousteau 1910 – 1997
reported on Page 115 of the printed December 2022 issue of Polar Post.
Page 116S – 116T: The full press release text for the New Issue: Tristan da Cunha – Vagrant Species Part 3 reported on Page 116
of the printed December 2022 issue of Polar Post.
Pages 116U – 116W: New Issues for the French Southern and Antarctic Territories (FSAT/TAAF) January 2023.
Page 116X: New Issue Monaco – Centenary of the Death of Prince Albert I of Monaco – Albert I and Spitsbergen, June 2022.
Page 116X: New Issue: Argentina – Argentina in Antarctica, August 2022.
Page 116Y: New Issues: Greenland 11th November 2022.
Page 116Z: Obituary – Billy-Ace "Penguin" Baker, 1936-2022.
Page 116Z: New Issue 24th November 2022: Monaco – Centenary of the Death of Prince Albert 1st of Monaco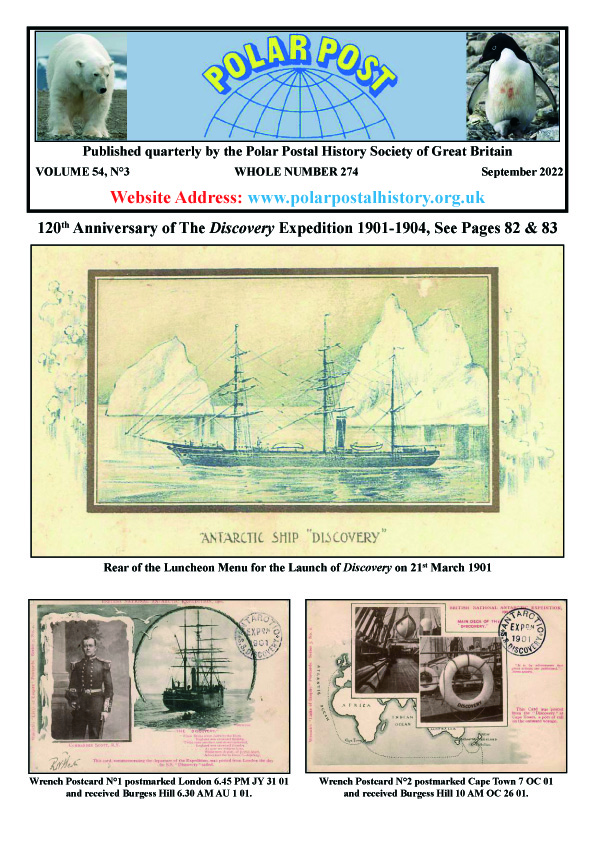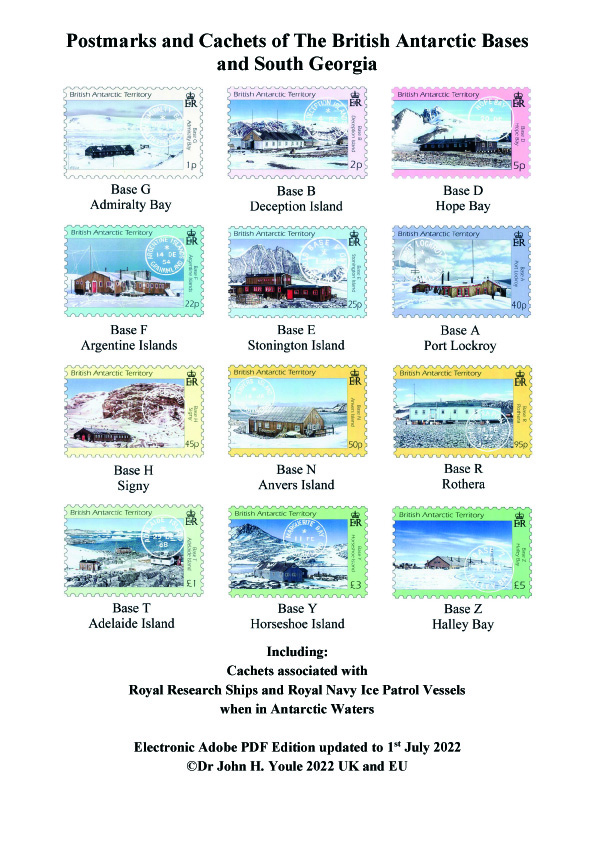 If you have difficulty logging-in to the library please contact the webmaster for assistance at webmaster@polarpostalhistory.org.uk